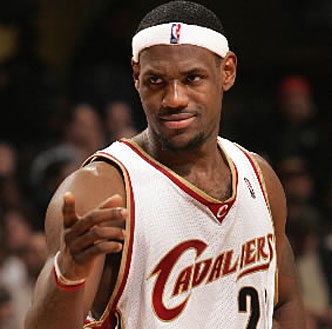 Tonight will be the fourth night of the NBA Playoffs, and a number of things have made themselves apparent thus far: 1) Do not tease LeBron; 2) PHX-SAS looks like fun; 3) The Jazz look almost as good as
some folks say they are
; 4) The Hawks look exactly as bad as everyone knows they are. It's been an eventful few days, for sure, and tonight should be pretty fantastic as well: Dallas-NOLA at 7, followed by Round 2 of the wondrous Suns-Spurs series. For those in the crucial Central Florida/Central Canada demographic, check your local listings for Magic-Raptors at 7:30. In the meantime, some observations and impressions:
Pity the Rockets
.
These poor dudes
. Talk about your boulevards of broken dreams. After dropping Game One by eleven at home, last night the Rockets were the victims of the first (though surely not the last!) instance of overzealous officiating interfering with a basketball game, as Luis Scola (aka New Laimbeer) was called for an offensive foul
away from the ball
about a second before Bobby Jackson hit a game-tying three with less than a minute to go. Basket revoked, ballgame. Having watched the replay numerous times, it was a classic flop on Andrei Kirilenko's part, exactly the sort of play the NBA insists every year that they're not going to call and then some bullshit like this happens. Adelman and McGrady were justifiably livid after the game, although there's no changing the fact that the Rockets have dropped two straight at home and there's certainly no guarantee they would have prevailed had the officials conducted themselves properly. McGrady seems once again destined for an early exit, and the talking-head media douchebags are already licking their chops, and that's a crying shame since according to those same douchebags a few months ago these guys aren't even supposed to be here. Keep ya head up, T-Mac.
The Wizards are not who we thought they were.
Seriously, this is the only team in the NBA that beat the Celtics three times? The Wizards have looked like scared, petulant children the first two games of this series, and last night they expanded that description to "scared, petulant,
thuggish
children" in the wake of Brendan Haywood's flagrant, borderline-repugnant foul on LeBron James in the midst of
last night's blowout
. There will be those who will argue that Haywood was simply playing hard and misjudged his play on the ball, and maybe that's true, but he can still go fuck himself, and Stern ought to suspend this hack if only to send the message that body-slamming the best basketball player in the world in the midst of a 30-point defeat is uncool for all involved. Haywood's teammates ran their stupid little yaps about how excited they were to be playing the Cavs in the playoffs (with Agent Zero giving new life to the old "writing checks with his mouth that his body can't cash" cliche), and now we're already getting this bullshit by the second game. You disappoint me, Washington.
Sixers-Pistons suddenly interesting blah blah blah blah...
Seriously, I heard some commentator on Sunday night actually use the phrase "backs to the wall" to describe the Pistons after their Game One gag-job. I'm sorry, I must have forgotten that this was a three-game series. Seriously, much respect to Philly for pulling this one out (although as Tim noted, the last minute or so of that game gave every indication that they were trying to lose it), but does anyone out there actually think that this strongly changes the complexion of this series? Until further notice this is a Game-One-of-the-2001-Finals situation (which, incidentally, Philly was also involved in). If Philly wins the next game I will strongly reconsider this stance, but in the meantime I don't think the Pistons are exactly wetting themselves over the challenge of having to win at least one game in Philly to take this series.
Teams that aren't in the playoffs can still do things; why shouldn't they?
The Milwaukee Bucks hired Scott Skiles to be their new coach yesterday in a move that I find puzzling for both sides. Skiles still has some dap as a successful NBA coach and you'd think that he could have had his pick from at least several open jobs this offseason; why in the world he would choose the Bucks is simply beyond me. I actually attended the Celtics-Bucks game a couple weeks ago and the Bucks are just terrible; even their young players seem almost precociously disappointing. From the Bucks standpoint, Skiles is a notorious firebrand with little patience for clownery, and you're putting him in charge of a team that's trying to build around Yi Jianlian, Andrew Bogut and Charlie Villanueva? Christ. We'll see, but something tells me Skiles isn't making it to the end of his four-year contract (although seriously, those numbers are all pretty much made-up anyways).
Lastly and most enjoyably, a
report from the
Daily News
tells us that Isiah Thomas, while
still
not fired from the organization, has been banned from having any contact with the team. James Dolan really knows how to run that organization. The same article reports that Mark Jackson is now the lone horse in the highly-dubious "race" to become the next coach of the Knicks. We shall see.