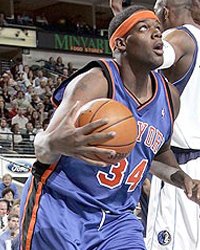 As promised
last week,
here is the second (and hopefully final) entry into my monumentally self-indulgent glimpse into the trials and troubles of the Celtics' dysfunctional Atlantic Division Rivals, the New York Knicks. Last week we focused on the halcyon years of the mid-1990s into the embarrassingly epic failures of the new "Dolan" century. Today we strive to answer the most (some would argue "only") relevant issue on the table: what the fuck is up with this year's Knicks??
What the fuck is up, indeed. Isiah Thomas has certainly fielded (courted?) some insanely-constructed teams since he took the helm in 2003, perhaps peaking with the ill-fated Stephon Marbury-Steve Francis-Larry Brown triumvirate that catastrophically imploded a few seasons ago. But this year... ah, this year Zeke has outdone even his own lofty standards. In what honestly might have been his greatest draft-day heist ever (and that's truly saying something for Thomas, who for all his flaws certainly knows how to work a draft), the Knicks' President/Coach
managed to steal
the prodigiously talented Zach Randolph (see mugshot) away from the Blazers in exchange for an overvalued second-year player (Channing Frye) and a washed-up two-guard with an insatiable appetite for clubbing (Steve Francis, whom the team promptly bought out). In Portland's defense, Randolph is pretty much the dictionary definition of "character issues," and I'm fairly certain the team was outright terrified of Randolph exerting too much negative influence over Brandon Roy, LaMarcus Aldridge and of course Greg Oden. Still, to let a 23-10 guy go for 20 cents on the dollar is stupid as fuck in any circumstances, and the Knicks brilliantly reaped the benefits of Portland's panic.
The addition of Randolph now gives the Knicks two potentially dominant frontcourt players, at least on the offensive end, which is really one more than any other Eastern Conference team has. The rest of the team is startlingly deep as well. Stephon Marbury, Jamal Crawford, David Lee, Quentin Richardson, even Renaldo Balkman: all of these guys can play and play very well, and if they all played on different teams and Isaiah was in a rotisserie league, well, you have to figure he'd have it wrapped up. Unfortunately there's only one ball on the court, which leads to the million-dollar question for Knicks fans and casual observers (and I certainly count myself among the latter): can these guys play together?
Fortunately for Celtics fans and unfortunately for New Yorkers, I've got to say that I think it's unlikely. Start with the Curry-Randolph front line; despite Curry's height advantage, these two are remarkably similar players--offensively fantastic and defensively indifferent. The big difference is that Randolph's just much, much better; a better scorer and a far better on the boards, out-rebounding Curry by 3 rpg even though Curry's got a solid three inches on him (honestly, pound for pound is there a worse rebounder in the NBA than Eddy Curry? I seriously doubt it. Both of these guys need the ball in their hands to be successful and Randolph is just far more adept at acquiring it. Furthermore, Randolph can be a notoriously abrasive character while Curry is notoriously thin-skinned. By January I predit they'll be barely speaking to each other, with Curry publicly sulking about touches and Randolph making thinly-veiled swipes at his center's sexual orientation in
SLAM
magazine. Truthfully, Randolph-David Lee is in many ways a more intriguing combo than Randolph-Curry, but there's no way Zeke can bench Curry or even scale back his role, not after what they gave up for him.
As for the guards, well, what can be said about Steph Marbury that hasn't already been said by somebody somewhere, usually with a string of expletives attached. I don't hate Marbury in the slightest--as mentioned before, I think his
Starbury
endeavor is one of the few truly socially noble acts committed by an athlete in recent memory--but I do think he's pretty bad at basketball and only seems to get worse. It's truthfully not all his fault; he's had so many coaches at this point that I think his game is just one big ball of confusion. It's easy to forget that Marbury used to be really, really good (albeit for bad teams), consistently putting up 20+ points and 8+ assists a night, and when he first came into the league as a 19-year-old out of Georgia Tech he had a Chris Paul-like aura about him. Now he's fucked and playing for his last chance at some sort of career redemption. Equally as intriguing is Jamal Crawford, who honestly should probably be playing for another team. He looks to be the fourth option on a team full of ballhogs, which is idiotic since the main thing Crawford is good at is creating match-up nightmares and scoring in explosive bunches. I mean, what's the point of having a 6-6 combo guard who can drop 50 on a given night if you're not going to get him the ball? His currency as a decoy certainly isn't going to last too long. Truthfully they should probably just trade him for a top-flight defensive role player or two, but that'd be too logical so look for Crawford to be criminally misused and then possibly demanding a trade by mid-season, leading to further inter-squad turmoil.
The rest of the team is all right, with the exception of Nate Robinson, who's honestly one of the worst players in the NBA. How he continues to get major minutes is beyond me. Honestly, a guy like Renaldo Balkman--whom Isiah took
so
much shit for drafting a few months back--might be the best possible player for the Knicks right now, because he can impact the game without needing to touch the ball. As a fellow Headbander put it to me a few weeks ago, the main problem with the Knicks is that they have no leadership: seriously none whatsoever. Isiah is one of those laissez-faire "players' coaches" who'd rather be one of the guys than draw up strategies, and nobody on this team seems to possess the character of a Kevin Garnett, a Paul Pierce or a Ray Allen. The Knicks will be better this year, make no mistake, but when it comes time to play teams with a solid core of veterans who understand how to play basketball--teams like the Celtics--I can't help but feel they'll be totally exposed. I think they'll win 40 but not 50 and there will be at least one major team distraction during the season. At
least
one. And as always, it's gonna be fun to watch.